Tis the Season…
So many of you know how this traditional Holiday song goes, "Tis the season to be jolly…" But this is the season for so much more.
Tis the season for reflection. The end of the year is an opportune time to reflect and take an inventory of the year. Physically, professionally, spiritually is this where you wanted to be? Some circumstances are beyond our control (unemployment, car wreck, etc.) but spiritually speaking God is always ready for us to trust Him more. Are you making time every day for prayer and studying the Word; are you being obedient to Hebrews 10:25, "do not forsake the assembly"?
Tis the season for inviting others. Life Way research has revealed that 80% of all unchurched people would attend church if they were invited. It's even more applicable during the Christmas season. If you think it's important for your friends, family, and co-workers to understand the reason for the season then invite them to church with you!
Tis the season for comfort. For too many people this is not the season to be jolly but rather to be sad. Rates of suicide and depression increase dramatically during this season as the loss of a loved one becomes all the more apparent. Be sensitive to those whom you know has experienced a loss this year and make it a point to reach out to them with Christ's love and comfort.
Tis the season to plan ahead! It's a good time for reflection but it's also a great time for preparation. There are so many things that can be said here but I will keep it pertinent to spiritual preparation. Is there a ministry need you see that the church isn't filling? Let me know and we will seek the Lord's wisdom on the next step together! Is the Lord calling you into full-time missions? Share it with the church! Have a good idea for a lesson? Start a Bible study! God has a plan for you and for our church, together let's use this Christmas season to seek it out for the coming year.
Pray, Share His Word, Show His Love.
In Christ,
Pastor John
FIRST BAPTIST CHURCH
SECOND ANNUAL TRUNK AND TREATS
On a cool evening, Saturday October 31st, the church held its second annual "Trunk and Treats" event. Several cars circled around the parking lot and opened up their trunks full of treats for the little ghosts and goblins. We had everything from princesses and football players to clowns and creepy critters, all sizes and ages joined in the fun. We even had a few adults dressed for the occasion, with a cereal box athlete (aka Pastor Harms) to cats, and law enforcement officers (well they may not have dressed for the event, they were actually on duty) also helped out with evening festivities. Hot dogs that were roasted in an open ring of fire were easily snatched up by the scary creatures of the night. Some arrived by foot and some arrived by train. Ed Henderson was the train conductor of the Henderson Express which carried his grandchildren safely for their treats. Approximately 100 little trick or treaters were greeted during the evening. Meeting friends, old and new, having fun and sharing the word of God were enjoyed by all.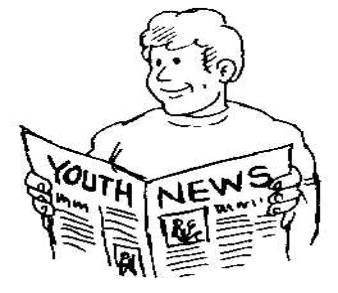 TeamKids are off and running again for another great season of learning about God, using the Bible and living for Jesus. The TeamKid motto says what the coaches, Judy Lawson, Mica Bohannan and Autumn Crawford are trying to teach the children in the Burden community. The group also enjoy games, movies, crafts, music and of course food.
While the weather was still warm the kids visited the park and made a game of picking up hedge balls in the park. We learned we need to keep God's world neat and clean like He made it for us.
We welcomed home soldier Kevin Miller by making a big banner for him and giving him some candy. We had been praying for him and his family while he was overseas.
Our group, 4 years to 6th grade, are looking forward to many enjoyable weeks ahead learning, doing and serving our Lord Jesus, as the Bible teaches us to do.

FAMILY AND FRIENDS BIRTHDAY
| | | |
| --- | --- | --- |
| December | January | February |
| | | | | | |
| --- | --- | --- | --- | --- | --- |
| 4 | Sitty Cannon | 11 | K C Colvin | 2 | Ron Cannon |
| 17 | Caiti Dwyer | 16 | Kent Rierson | 6 | Nick Kimple |
| 17 | Mica Bohannan | 23 | Mary Otto | 10 | AM Beckham |
| 20 | Jaurene Lauppe | 23 | Hannah Dobbs | 13 | Bob Lawson |
| 21 | Shad McMinn | 26 | Marvin McMinn | 17 | Christen Rierson |
| 21 | Blaine McMinn | 26 | Candy Dennis | 18 | Zella Shaffer |
| 23 | Teresa Cannon | 26 | Cheri Colvin | 20 | Brendon Mackey |
| 24 | Steve Otto | 26 | Lloyd Cox | 22 | Loel Bohannan |
| 27 | Bryant Lawson | 26 | Kim Bair | 23 | Richard Mackey |
| 29 | Lorri Lowe | 29 | Keagan Harms | | |
| 31 | Quinlynn Harms | | | | |
BAPTISIM
| | |
| --- | --- |
| Emily Crawford | October 25th, 2009 |
| Hunter Rierson | November 22nd, 2009 |
| | |
Praise the Lord God Almighty!!!!!


| | |
| --- | --- |
| M | Missions are everywhere. We are to look around. Where is God working? That's where we should be. This time of year offers many opportunities to show God's love. Pray to see what God wants you to do. Then Get Busy! |
| I | In October, The Trunk-&-Treat party was a great success. That means many people came by and received invites to church, tracts, happy times with the love of Christ shown along with their candy and hot dogs. We estimated close to 100 people attended. Since then, some have attended activities at church. Praise God. |
| S | Several attended the championship football game. Letters went home with grade school students letting the parents know we would pick up the cost of the ticket if they wanted to attend. 15 adults and 13 children took us up on the offer. Several have stated they appreciated our effort to help our school and community as we show God's love. |
| S | Shoeboxes were filled with gifts for children around the world in connection with Samaritan's Operation Christmas Child. People of the church came together in great love with 78 boxes being collected and sent on with prayer to bring children and their families to Christ. What a fun way to do missions! |
| I | Included in the sewing group are quilts that are made to share with others the love of Christ. Two families will receive quilts for new babies in December. |
| O | One hundred dollars was given to Joseph's Storehouse for school supplies to be used in the local communities. This program helps students who need the supplies to get off to a good start at the beginning of the year. |
| N | Needs in our church and community are met through help in various ways. |
| S | Something you can get involved with: Christmas Tree Angels. This program is sponsored by Joseph Storehouse but is handled within churches in the communities to provide gifts and a Christmas dinner fixings for those who need a hand. Adopt an angel and help a child! Also the LOTTIE MOON OFFERING is beginning. This goes to foreign missionaries to help in numerous ministries throughout the world. |
Missions are everywhere. Look around and join in. Invite others to help out!
Opportunities to Serve and Fellowship

December 2009
January 2010
February 2010
Weds: Prayer Meeting 6:00
Weds: Prayer Meeting 6:00
Weds: Prayer Meeting 6:00
Fris: Quilting 9:00
Fris: Quilting 9:00
Fri: Quilting 9:00
Sun: Team Kids-Youth and
Adult Bible Study 6:00
Sun: Team Kids-Youth and
Adult Bible Study 6:00
Sun: Team Kids-Youth and
Adult Bible Study 6:00
Dec 6 Youth Christmas Party
Dec 12 Women's Bible Study 1:00 to 3:00
Jan 9 Women's Bible Study 1:00 to 3:00
Feb 13 Women's Bible Study 1:00 to 3:00
Dec 12 Christmas Angels Due
Dec 12 Harms Christmas
Party5:00 to 8:00
Feb 26-27 Women's Conference
Dec 29-31 In-Depth










Cheri's Testimony
It's amazing to me that I even have God in my life. When I was young I knew little of who He was, but to know Him I did not. My dad was an atheist and my mom took us to church a handful of times. We didn't talk about God in my household. Mom and Dad got divorced and I felt abandoned. While in junior high I didn't like where I was going with my life but I didn't know how to change it. My life was full of chaos, depression, aloneness, and hanging around the wrong types of 'friends'. I contemplated suicide when I was 17 but something made me not go through with it. I couldn't figure out why my life was full of such sorrow. It wasn't until I was 20 years old and I moved from Topeka with my friend and moved to a really small town called Winfield, KS. I remember thinking that this town was so small that there was no way I could make my life here. I wasn't there a week when someone came into my life that would change it forever. He was a Christian, as was his mother. They told me about God, Jesus and the trials and tribulations Jesus had gone through. They also expressed to me how wonderful a feeling it was to feel the Holy Spirit come into your life when you accept God. Boy! Did I ever want that. They took their time with me; and accepted me for who I was. As stated earlier, I did not have God in my life and they really had to be patient with me because I was rough around the edges. I started going to church with them and I accepted God into my life. Having Jesus in my life has brought such an inner peace that I have never felt before. Sure, there are challenges in my life but I have learned to lean on Him and trust Him with all my mind, heart and soul. Oh, and that special someone that God sent my way years ago was no other than KC. We will be celebrating our 26th wedding anniversary Dec. 3rd. I always thought I wasn't good enough to marry but God took that thought right out of my head. Life is Good!
Cheri Colvin

Bowling, a corn maze, skating, canned food, and teenagers. What do all of these things have to do with one another? It's all been part of our youth activities during the past few months.
We took one of our largest groups yet on a bowling trip. Over 25 teens chowed down on pizza, took a short trip to
Wal-Mart, and had a great time bowling.
In September, the Team Kids invited us to join them at the skating rink. What a great time! Several adults even skated, and no one went to the emergency room.
We traveled to Walter's Pumpkin Patch and spent an afternoon in their corn maze. We're happy to report that everyone who went into the maze found their way out!
The youth helped to restock the food pantry at Joseph's Storehouse by going door to door and collecting canned goods. This is a great service project and something that we hope to do again.
We've been very busy and have taken several trips, but our primary focus is teaching the youth about God's word. These young people are learning and growing. Thank you for all of the support, and please continue to keep our youth in your prayers.

Steve Macke
124 Years and Counting

As some of you may or may not know our congregation was established in 1885 which would make this next October our 125th Birthday! We are currently putting together a planning committee in order to organize our 125th celebration but we want to give all of you plenty of notice about the upcoming party! While the details are sketchy here's what we do know, on October 10, 2010 we are having a BIG 125th Celebration of God's continued work in this church and community!
So make sure you mark on your calendars to be here on 10-10-10 for this amazing occasion! Of course, to God be the Glory for these 124+ years!

In Christ,
Pastor John

PS: If you would like to help plan the celebration please let me know!


Who's Missing? Whose Mission?


"Time is very short, "he says. " I must go, pray and preach the Gospel."
Moses pleaded with his Hindu gods and goddesses for relief from debilitating arthritis. But the teenager's condition worsened and he began to lose hope.
One day a stranger handed him a tract with the story of the Great Physician. Moses began attending church and soon gave his life to Christ. Fifteen days later his arthritis was gone!
He became a successful businessman but felt convicted to do more. Leaving their comfortable lifestyle, Moses and his family began their journey to remote Himalayan villages where, along with Southern Baptist workers, they are using a creative, visual approach to share the Gospel. Together they are discipling believers and starting house churches.
Moses is a bold witness in a country where Christians are persecuted. Despite the hardships, he is driven by a sense of urgency.
Pray for Moses during Week of Prayer Nov. 29-Dec. 6.
Learn more about his work at imb.org/weekofprayer.
And remember, your gifts to the Lottie Moon Christmas Offering enable missionaries all over the world to work alongside national believers like Moses.
First Baptist Church's goal this year for the Lottie Moon Christmas Offering is $1,000.00. Please pray about your contribution to spreading the Gospel to some of the 1.5 billion people that are missing out on the opportunity to hear the Good News about Jesus Christ.