It's Not About Me
It has been an amazing 11 months since me and my family moved to Burden. Just the other night Amanda (my wife) and I were talking that we were amazed at how fast it went by! In this past year, it has been humbling to see and experience everything that has happened. Folks, God is definitely NOT dead and neither is our church!
Our church growing and giving is not a John thing; it's a gift from God. Nothing else could explain everything that has happened. I am just a man and yet the things that have been accomplished have been GOD-SIZED. Our church was given the opportunity to purchase an abandoned home across the street, our church Sunday school attendance has grown from an average of 35 to an average of over 50, our church has started two new Sunday school classes, our church has had youth come to know Christ as their Lord and Savior and our church is seeing a youth group jump from an average of 3 to 12 in attendance in under six months! Folks, it's not about me. I didn't buy the land, I don't teach a Sunday school class and I don't bring in the youth. God has chosen to bless our church using you as His tools. He alone should get the praises, because it is not about me or you. It is about the great things that He is accomplishing through us for His glory! Amanda and I consider ourselves blessed to be a part of His work.
As you read this first edition of the newsletter, please view it as it is meant to be viewed; a written testimony to our Heavenly Father. Let me remind you that your prayers and support is very much needed and appreciated! God is not dead here at FBC Burden, nor is He done! I know God has much more in store for us and I'm excited to experience God in new and mighty ways over this next year.
In fact our theme for 2009 is "Together We Grow." Growth in a church doesn't come from one man but from one body working toward the same goal. God desires for all the saints to be active in the growing of His Kingdom. Together, let's focus on the task of growing in Christ and growing His Kingdom. If we do that, and leave the results up to God, we won't be disappointed.

To God be the Glory!
In His Service,
Pastor John Harms
If then there is any encouragement in Christ, if any consolation of love, if any fellowship with the Spirit, if any affection and mercy, 2 fulfill my joy by thinking the same way, having the same love, sharing the same feelings, focusing on one goal. 3 Do nothing out of rivalry or conceit, but in humility consider others as more important than yourselves. Phil 2:1-3
IT'S A HOT TIME IN THE 'OL TOWN TONIGHT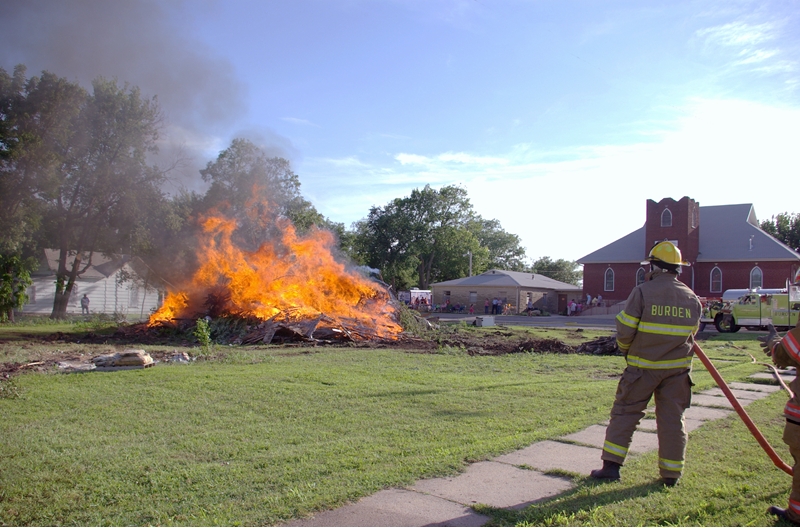 To those who have been around Burden will remember the Old Henderson House directly across the street from the First Baptist Church. After many years of vacancy, the home had fallen into severe disrepair and members wanted to buy the lot.

In April 2008, God brought Pastor John Harms and family to the church. He challenged the members to pray that God would allow the church to acquire the lot. By May, the Lord answered the prayers and in June the lot became His property. Excitement mounted as plans for 'THE BURNING' were set for July.

"The Burning" became a God blessed project that inspired the whole community. The Volunteer Fire Department offered to burn the house safely. The County Workers offered to demolish the house and clear the lot after the burning took place. Various business owners volunteered equipment, time, and materials. Members volunteered tractors and labor. Whatever needed done, God had someone ready to answer the call.

The night of the "Burning" arrived. The whole community showed up to witness. The street was roped off, lawn chairs lined the sidewalk, the snow cone machine was busy, cookies were shared, the firemen made preparation. Then the order came and everyone watched the flames engulf the old eyesore. The atmosphere of joy and celebration of God's goodness continued throughout the evening. SKTC brought the grill, and hot dogs, chips, and "fixing's" were handed out to firemen and community members. It was one "hot" party!

God has used the lot as a site for a "Trunk and Treat" party for the community where many "trick and treaters" and their families fellowshipped with members of the church. It is now a parking lot. Praise God for His gift! Only He knows His future plans.
BY: JAURENE LAUPPE
PHOTO: KIM BAIR
Financials of Interest
To 1-31-09
Revenue
$33,858.72
Expenditures
$34,902.45
Lottie Moon
Goal $1,000.00
Given $1,456.98
Annie Armstrons
Goal $500
Given $_____
Building Fund
$12,049.87

God's Blessings.
On the way to work a pickup pulls out in front of me and proceeds slowly to the next comer to turn. You know what is going through my mind. Not 100 yards past the comer, 3 deer are crossing the highway with one stopped to enjoy the view. Had the pickup not pulled out in front of me, I would have been going faster and there is a good chance I would have hit Bambi. Who do you suppose put that pickup there at that time? I know.
Thanks be to God for protection.
The Bible scripture for that morning was about Jesus' crucifixion. He died on the cross for all of us, even the person in that truck and me. Since taking "Share Jesus without Fear" I look at people differently now. It has always amazed me that the same people that sang praises as Jesus came into Jerusalem are the same ones that yelled, "Free Barabbas, Crucify Jesus". It is my sins that put Jesus on that cross all beaten and bloody.
Praises to my Lord and Savior for loving me enough to go through all the agony, all the pain.

He is risen!!!!! Jesus reigns!!!!!
Linda

M
Missions means you and me joining God in His work to bring about His results. We have several opportunities to actively show God's love.
February 2ih a group will travel to Bartlesville, OK for a mini mission trip to the Voice of Martyrs Organization. We can help them get the WORD behind "closed doors" throughout the world. Share in that trip and be blessed.
I
In May on the 24-27, a group will be going to Lodgepole, NE to put a new roof on a fellow Baptist Church. As Pastor John said, "We need muscle and money." What is God asking of you?
S
Serving others can happen in many ways. A food drive for Joseph's Storehouse is ongoing for the month of February. This food will be used for emergency help to people in our surrounding communities.
S
Sewing can be a mission. The Friday Sewing group is repairing flags to be placed in the cemetery over Memorial Day.
I
Included in the sewing group are quilts that are made to share with others the love of Christ in a cozy ministry.
O
Only God can bring about a harvest, but we can partner with God wherever He is working.
N
Now don't miss out on joyfully serving the Lord.
S
Surely God has moved your heart to be apart in some way to serve Him. Join Him in His work and be on mission.
Jaurene
The mission of the First Baptist Church is to be a caring, ministering, worshiping fellowship that prayerfully fulfills the Great Commission by preaching, teaching, witnessing, and training and by living Spirit-filled, Christ-like lives.